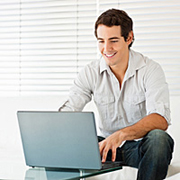 Online schools provide students with a head start and cost savings for accounting degree
Friday, Jan, 20, 2017 04:58PM
Students of all ages have the opportunity to work toward a college degree without leaving the comfort of their own home. Individuals who are uncertain of their desired field of study or who cannot afford four years of on-campus tuition have the option of enrolling in online schools, some of which offer transferable credit and substantial cost savings.

One distance learning institution recently partnered with a New Hampshire college to create a cost-efficient start of their bachelor's degree studies. The online college, which has been recommended by the American Council on Education and has met the Training Council's standards for digital course quality, offers entry-level credits that can be used toward a degree at the New Hampshire-based school.

The online courses allow scholars to move through the material as quickly or slowly as they want, which may prove particularly beneficial for working adults and parents who wish to pursue higher education.

The distance learning program offers 15 classes, including two accounting courses. The Bureau of Labor Statistics (BLS) projects that the number of positions for accountants and auditors will grow by 22 percent over the next eight years, which is must faster than average compared to most occupations in the U.S. The bureau reports that an increased accountability for protecting an organization's stockholders will drive this spike in job opportunities.

According to the BLS, most professionals in this field must have a bachelor's degree in accounting or a related field. Any individual who files a report with the Securities and Exchange Commission, a federal agency that regulates the stock market, is required by law to be a Certified Public Accountant (CPA).

Many careers like accounting and auditing require a vast amount of training and education. According to The Daily Press, high school seniors in Minnesota are getting a head start on their higher education by taking online college courses in subjects such as calculus and personal finance. The digital courses allow teenagers to complete college prerequisite classes, thus saving them time and money at a post-secondary institution.

The news provider reports that nearly 50 students at the high school are taking online courses during their last class period of the day. Transferable credit courses are available in a variety of subjects, including foreign language, science, digital media, psychology and music theory.