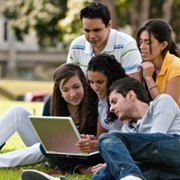 Facebook Contest Will Offer One Winner Free Tuition at Accredited Business School
Friday, Aug, 18, 2017 04:51PM
An accredited business school in Massachusetts is introducing an opportunity to win tuition for its degree programs with all academic expenses paid for by the university.

The tuition, which could be valued at up to $44,000, can be used for an associate's, bachelor's or master's degree in any of their various offerings.

According to the institution's website, included amongst their programs are online business management, accounting, and general business courses of study.

The contest is being held on the college's Facebook page. Participants are encouraged to answer a question relating to why they think they would be a great candidate for a business degree. Fellow Facebook fans will vote on the best responses, and officials from the school will decided on a winner from the top five entries.

Staff at the business school say they hope this promotion will encourage students to consider online degrees as an option for higher education and to better their future careers. Despite difficult economic times, experts from the college say that this contest will give a student the opportunity to earn a degree without financial constraints.