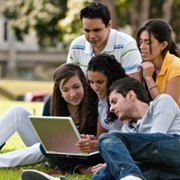 Survey: 80 Percent of Holiday Shoppers Will Buy Online
Sunday, Nov, 19, 2017 01:57PM
As the holiday season nears, retailers and businesses have been putting a heavier focus on their online presence. In fact, online sales is an area of such huge growth that those receiving ecommerce training surely will learn much about how to cater to consumers during the holidays.
The new Holiday Shopping Survey from Ebates.com found that nearly half of all holiday shopping will be done online this year, and 80 percent of shoppers said they will make at least some purchases on retailers' websites.
A majority of shoppers, 64 percent, said the biggest reason they go online is to get the best prices and deals. The next most-cited reason is convenience, followed by avoiding crowds, researching the best gifts, better inventory and selection, and to avoid spending money on gas.
The reports of skyrocketing ecommerce have been rolling in lately, such as a recent comScore report that showed an increase of 13 percent in online retail sales in the third quarter of 2011 compared with the same period in 2010.
"The third quarter of 2011 saw a continuation of the year's strength in U.S. retail e-commerce spending, even in the face of renewed economic headwinds and uncertainty facing the U.S. consumer," said comScore chairman Gian Fulgoni. "More consumers than ever before are relying on the online channel for product and pricing information, which along with the internet's fundamental appeal of convenience and attractive pricing, are contributing to the sustained upward momentum in e-commerce spending."
In February, Forrester Research released its online retail forecast that stretches until 2015, and it showed that ecommerce is expected to rack up $278.9 billion in 2015. The sales grew 12.6 percent to hit $176.2 billion in 2010.
A number of factors are driving online sales, including the growth in web connectivity among U.S. residents, consumers' increasing familiarity with retailers' online presence, and new online models such as flash sales, Forrester said.
Flash sale sites like Gilt Groupe, Rue La La and Ideeli were started in recent years as a way to sell a large inventory of high-end fashions that piled up as consumers cut back on luxury spending, Reuters said. Deal sites like Groupon and LivingSocial also are making online purchasing more popular as consumers look for deals as the economy continues to remain stagnant. And as Kindles, iPads and more portable electronic devices increase in popularity, so does the purchasing of ebooks, apps and other web-based subscriptions.