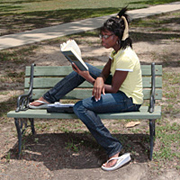 Hospital Workers Awarded Scholarships
Saturday, Dec, 2, 2017 05:17PM
People who already work in the healthcare industry and want to earn health and medicine degrees may have an option for school funding: their employer. For instance, four New Jersey hospital workers who are pursuing a bachelor's degree or other nursing degree recently were awarded a memorial scholarship granted to the hospital by a family.
The Harry M. Poppick, M.D., Memorial Scholarships are given out in honor of Poppick, who was a founding member of Bayshore Community Hospital's medical staff. Poppick died in 1990, and his family has been granting the scholarship since then.
"We know the nurses at Bayshore Community Hospital are among the top in New Jersey and throughout the U.S.," Timothy Hogan, of the hospital, said at the ceremony, the Asbury Park Press reported. "The work our nurses are doing on a daily basis makes a distinct mark in the memory of each person who walks through our doors, and it is representative of the many great things that happen at Bayshore."
Many nurses are starting to pursue advanced degrees due to expected changes to the industry. In 2009, 36 states and Washington, D.C., offered doctors of nursing practice degree programs, according to the American Association of Colleges of Nursing.