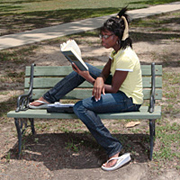 17-Year-Old Develops Groundbreaking Neural Network
Sunday, May, 20, 2018 07:15PM
Earning a computer science degree or online degree in computer science can lead to a career in various fields, including health technology and research. The Google Science Fair on July 23 was won by 17-year-old Brittany Wenger from Sarasota, Florida, who developed a less invasive computer program to detect breast cancer.
In an interview with Scientific American, Wenger stated her interest in computer programming began in 7th grade when her class was researching the future and artificial intelligence. The application she developed is titled, "Global Neural Network Cloud Service for Breast Cancer," which she believes is ready to be used in hospitals.
"I taught the computer how to diagnose breast cancer so it could determine whether a breast mass is malignant or benign," Wenger said in the interview with the publication. "I did this because currently the least invasive form of biopsy is actually the least conclusive. So a lot of doctors can't use it."
Wenger's program is inspired by the way brain cells connect with one another in an artificial network that is able to detect certain patterns in data that are too complex for the human brain to analyze. Her goal with creating this program was to increase the success rate of the current least invasive test available called fine needle aspirate. The diagnostic test often produces unclear results that require a patient to undergo an additional biopsy with a larger needle or surgery.
The custom network developed by Wenger has a 99.1 percent success rate of sensitivity of malignant tumors and is minimally invasive. The teen ran 7.6 million trials to prove her system's competence and plans to continue collecting data to increase the number. Wenger also plans to work her project into a larger scale, because it could allow millions of hospitals to have access to the information and provide feedback.
Wender plans to continue a path toward cancer research by using computer science technologies. The gender gap present today in the computer science industry can be minimized by informing girls of the vast options they have with the degree. From working in the health industry like Wender to developing social media platforms like Facebook, she believes the industry has a lot more to offer girls than some may think.