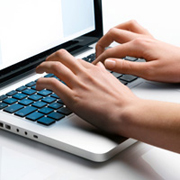 'Confusometer' May Improve Learning
Wednesday, Apr, 4, 2018 04:52PM
In college lecture halls, students who don't understand a professor's lecture may feel too intimidated to say so. To ensure all learners comprehend course material, a Toronto resident developed a new website that makes hand-raising anonymous.
With Understoodit.com, students can click a red "confused" button, which sends a warning to the professor that shows on a "Confusometer" what portion of the class doesn't understand the material. As it is further explained, students can start clicking green "understood" buttons. While some may think the website is impersonal, it's further demonstration of the innovations developed by students with a computer science degree or online computer science degree.
"It's anonymous, so it lets students communicate whether they're getting the lecture or not, because once a class has 60 or 70 students, hardly anyone raises their hand," Liam Kaufman, the creator of Understoodit.com, told The Toronto Star, adding that it received positive feedback from students at a city university's computer science lecture halls. "It's also helpful for students who don't speak English as a first language, and it works through the browser on your iPhone, laptop or tablet so there's no cost."
News of the website made the rounds on technology news sources this week, and 300 students rushed to sign up. Kaufman also said he received a deluge of emails from professors at a number of renowned U.S. universities.
Many innovative websites and apps have caught on like wildfire when they hit college campuses, such as Facebook, RateMyProfessors.com and Twitter.
Students at an Ohio institution recently introduced an innovation that will allow police and first responders to view 3-D maps to more safely react to emergencies such as hostage situations and missing persons cases.
The students designed the 3-D Immersive Video Imaging Network with the help of federal funds from the U.S. Department of Homeland Security. The software, which will be available on laptop computers, will allow responders to have 360-views of buildings in the database. The software creates a web-based model of the buildings.
"If it is immediately accessible and up-to-date, it sounds like a fairly sophisticated monitoring system," Greg Paxton, acting Columbus fire chief told The Columbus Dispatch. "We have fire-planned various buildings, but if we actually had something that's three-dimensional, that could make it more helpful for us."