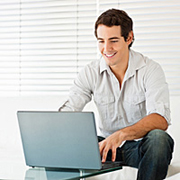 Computer Science Enrollment Continues to Rise
Saturday, Jan, 25, 2020 05:11PM
The number of students earning a computer science degree is growing every year, in part driven by the rapidly increasing prevalence of data and mobile electronic devices in the U.S. culture. After the dot-com bubble of the '90s, college students demonstrated hesitance in entering the field, but with more and more services catering to online visitors and transferring to the cloud, that number is surging again, in part thanks to students who are seeking an online computer science degree.
In fact, in a recent survey, a number of New York City schools reported at least double-digit growth. Professors from the universities said the number of students enrolled in computer science courses spiked between 30 and 50 percent.
"New York is really the up-and-coming place because people who don't have traditional technology backgrounds are starting companies in completely different sectors and utilizing technology," a sophomore studying computer science at a New York School told the Wall Street Journal.
Nationwide, the number of students who declared a computer science major jumped 7.6 percent from 2009 to 2010, the Computing Research Foundation said. The number of women who earned a bachelor's of science degree in computer science increased to 13.8 percent in 2010, up 2.5 percentage points from 2009, according to a Computing Research Association survey.