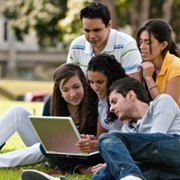 Jobs For Computer Science Grads Are On The Rise
Monday, Aug, 19, 2019 09:43PM
Those who are considering earning a college degree with an online program may want to look towards computer science, as PC World reports that now is the time to shine for majors in this field.
Enrolling in a computer science degree program will afford students the opportunity to graduate on top, as Dice.com managing director Alice Hill told the news source that everyone who graduates this year in this subject may likely have up to three job prospects in their future. A significant statistic supporting this claim is the unemployment rate for those in the technology industry - 4 percent - compared to the national average of 9 percent, according to the U.S. Bureau of Labor Statistics.
Students who get their computer science degree online this year will have the opportunity to pursue more than 138,000 technology jobs that will be added by the fourth quarter of 2011, 80,000 of which are already available, reports Moody's Analytics.
The U.S. Department of Education has reported that in 2008, there were only 38,000 individuals with computer-related bachelor's degrees - a stark contrast to 2004's record of 60,000. This data only emphasizes the need for tech-savvy graduates, and individuals can get into this field by earning their computer science degree online.