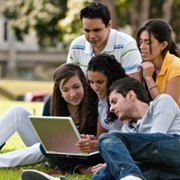 Survey: CPAs Need to Act on Technology
Monday, Apr, 6, 2020 03:56PM
A recent survey from the American Institute of Certified Public Accountants shows the top concerns of those who have completed an online accounting degree program or earned an online degree in finance.
The 2012 Top Technology Initiatives Survey polled 2,259 respondents who are members of the AICPA. This edition was designed to delve further into the core concerns and priorities members have about information management and technology.
According to the survey, the top concern of certified public accountants is securing the IT environment, which was cited by 62 percent of respondents. Managing risk and compliance, ensuring privacy, preventing and responding to fraud, and managing and retaining data rounded out the top five concerns.
"The ability to tap critical information on the go, virtually whenever you want, is changing the way CPAs do business," said Anthony Pugliese, CPA and AICPA senior vice president of finance, operations and member value. "But it imposes new burdens, too. CPAs and the clients and companies they work for need to stay on top of technological shifts, make the right decisions on access, security and privacy, and map out new areas of growth. It's clear we're still working our way through these challenges."
Attention to technological detail will be an important area of focus for the accounting and finance industry in coming years, as mobile devices continue to proliferate in the United States and the industry is expected to experience growth.
According to the U.S. Bureau of Labor Statistics, jobs for accountants and auditors are expected to increase at a faster than average rate of 22 percent by 2018, and CPAs are said to have the most favorable job outlook. Those who are familiar with accounting software and computer systems have an even better chance of finding a job in the next six years, according to the BLS.
The growth will be brought on by an increase in the number of businesses, changing financial laws and corporate governance rules, and increased accountability to protect a company's stakeholders, the BLS sad.
"CPAs by our DNA tend to be a pretty skeptical group," David Cieslak, a principal in the computer consulting firm Arxis Technology and a CPA who holds the Certified Information Technology Professional credential, said of the survey results. "We tend to be very cautious. We see the potential of new technologies, but we also want to be certain about their long-term viability and security."