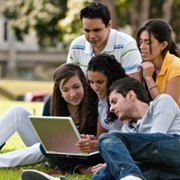 Accredited university to offer new online computer science degree
Friday, Aug, 4, 2017 12:46PM
Even after completing a bachelor's degree, some students have a desire to continue their education through a master's program to gain additional knowledge and strengthen their chances at a fulfilling career. A university in Georgia recognized this desire and demand, so they have introduced a program to make the process simpler, reports the Times-Herald.
Recently, the college announced that it will be offering a master of science in applied computer science that can be obtained all through online coursework. This innovative approach to higher learning is opening doors for students who otherwise may not be able to schedule class time in between their busy schedules.
Since the major's inception in 2002, all graduates have found employment in the information technology field. The current revamped program will not be offered exclusively online in the future.
According to the Bureau of Labor Statistics, individuals who have earned a master's degree or other certificate of higher learning have higher salaries than those who only have a high school diploma.