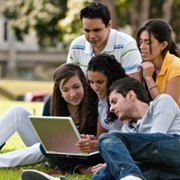 Wisconsin School Offers New Healthcare Program
Friday, Sep, 29, 2017 01:43PM
Public higher learning schools throughout the country are adapting to new kinds of students – those who wish to earn their bachelor's or master's degrees in an online setting. Recently, an accredited institution based in Wisconsin announced a new addition to their distance learning offerings that will broaden the opportunities they provide to non-traditional students over the internet, reports the Northland's News Center.
Officials from the university said that starting next year, students who wish to take the health and wellness management program and already have an associate's degree or a certain amount of credits towards this field of study will be able to enroll. This major helps students find jobs alongside those who work in healthcare, such as nursing professionals, by learning how to perform business administration tasks that work closely with health insurance companies.
This institution already offers some great opportunities for non-traditional students to earn their degrees exclusively online. According to the university's website, they have a unique offering called the Individually Designed major, which can turn into a degree track that covers many fields of study, including information technology and environmental studies. This type of program may be ideal for students who wish to experience a variety of subjects before choosing their future career concentration.