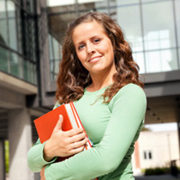 Initiative to Aid Science Researchers
Monday, Oct, 16, 2017 02:13PM
Students earning a forensic science degree or computer science degree will have more research flexibility in a new policy from the White House and National Science Foundation. The NSF Career-Life Balance Initiative is a 10-year plan that will let researchers delay or suspend grants for up to a year to care for a newborn or newly-adopted child or fulfill other family obligations.
The plan was announced by the White House Council on Women and Girls Executive Director Tina Tchen, Office of Science and Technology Policy Director John P. Holdren, and NSF Director Subra Suresh. The initiative's goal is to maximize current policy to facilitate scientists' reentry into their fields with minimal loss of momentum, the White House said.
"Too many young women scientists and engineers get sidetracked or drop their promising careers because they find it too difficult to balance the needs of those careers and the needs of their families," Suresh said in a statement. "This new initiative aims to change that, so that the country can benefit from the full range and diversity of its talent."
In 2004-05, 11,986 women earned bachelor's of sciences degrees in computer science, compared with 42,125 men. The gap in computer sciences post-bachelor's degrees grows from there. The number of males who received master's degrees in computer science - 13,136 - outnumbered women by nearly 8,000. And just 214 women earned doctorate degrees in the field, compared with 905 men.
On September 26, the day the NSF Career-Life Balance Initiative was announced, first lady Michelle Obama spoke about the importance of retaining women and girls in careers in science, technology, engineering and match - also known as STEM.
"If we're going to out-innovate and out-educate the rest of the world, we've got to open doors for everyone," she said. "We need all hands on deck, and that means clearing hurdles for women and girls as they navigate careers in science, technology, engineering and math."
According to the White House, 41 percent of Ph.D degrees in STEM fields are awarded to women, but they make up just 28 percent of tenure-track faculty in those fields. The Career-Life Balance Initiative will be a key to narrowing the gender equality gap, according to the government, because women in STEM jobs earn 33 percent more than women in non-STEM women. The salary gap between men and women in STEM jobs is smaller than other fields, it added.