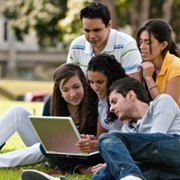 Colorado School Reports More Women in Computer Science
Sunday, Nov, 5, 2017 02:17PM
A computer science degree isn't typically pursued by many women, and a group dedicated to the field said many are discouraged from doing so in college. In fact, women represent half of the country's entire workforce but just 25 percent of technology-related jobs.
The group - which is associated with a California university - said the factors often include lack of social learning, role models and mentors, as well as competitive disadvantages due to gender-related working styles.
"The skills required to be competitive - self-promotion, negotiation, confidence - are not always exercised by women in technical fields," the organization explained. "This deters women from taking well-suited opportunities that they will likely excel at."
Despite the challenges, a Colorado university reported that the number of women in its computer science department more than doubled due to a campus movement to increase participation, according to the student newspaper. In 2007, just 18 women were enrolled in the school's program, but in 2011, that number jumped to 47, accounting for 17 percent of the students majoring in computer science.
A larger number of women in computer science will help meet the needs of the burgeoning industry. The U.S. Bureau of Labor Statistics reported that the industry is expected to grow 24 percent from 2008 to 2018. The growth will spur a need for more expertise in networking technology, computing speeds, software performance and embedded systems, it said.
"Employment of these computer specialists is expected to grow as individuals and organizations continue to demand increasingly sophisticated technologies," the BLS explained. "Job increases will be driven, in part, by very rapid growth in computer systems design and related services industry, as well as the software publishing industry, which are projected to be among the fastest growing industries in the U.S. economy."
The Colorado university is working to debunk the stigma that computer science is for nerds, so it is offering new content in introductory courses to appeal to a broader base. It also is developing a second computer science program that will be part of its college of arts and sciences.
The new content in the introductory computing courses strays from traditional, abstract examples of linked lists and binary trees to adopt a media-based focus in which students develop programs to manipulate sounds and process images, the department's chairman told the student newspaper.