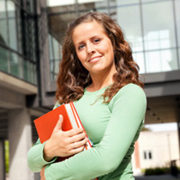 Computer Science Students Make Technology Breakthrough
Wednesday, Nov, 15, 2017 03:44PM
Earning a computer science degree may be even more high-tech than usual in future years thanks to new technology developed by four students earning computer science and engineering degrees at a Pennsylvania college.
The students developed an application that allows geologists to record data on an iPad rather than tracking information in a notebook. The technology was developed with help from an associate professor who is head of the school's computer science program. The National Science Foundation is funding their research.
Students first tested the application on a trip to Greybull, Wyoming, for the class basin and structural analysis.
"Last year, we had to go on Google Earth and type in each location's coordinates," a geology major who is the class' teaching assistant, told the school. "This year, it was all there for them and they just had to upload the data. What took us two hours each night last year took them only 15 minutes this year."
Geology may be an interesting avenue for computer scientists to take upon graduation, because the industry works to gather information on the health of ecosystems and environment, as well as natural hazards and resources, and impacts of climate and land-use change.
For instance, scientists and academics with the U.S. Geological Survey recently investigated how the San Francisco Bay and Sacramento-San Joaquin Delta area is expected to change due to climate change by the year 2099.
The area will be a significant source of analysis in the coming years, as the delta provides drinking water to roughly 25 million people and irrigation water to farms that produce about $36 billion worth of crops each year.
"The protection of California's Bay-Delta system will continue to be a top priority for maintaining the state's agricultural economy, water security to tens of millions of users, and essential habitat to a valuable ecosystem," said USGS Director Marcia McNutt. "This new USGS research complements ongoing initiatives to conserve the Bay-Delta by providing sound scientific understanding for managing this valuable system such that it continues to provide the services we need in the face of climate uncertainty."
The "Projected Evolution of California's San Francisco Bay-Delta-River System in a Century of Climate Change" found that increasing water temperatures and salinity may reduce the quality of native species' habitats. Native marine life in the area include the endangered Delta smelt and winter-run Chinook salmon.