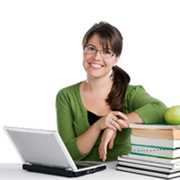 Report: IT Employment Rises
Tuesday, Nov, 21, 2017 02:48PM
Despite an economic recovery that has come in fits and starts, a new report from TechServe Alliance showed that IT employment jumped 2.2 percent in October 2011 compared with October 2010.
The monthly index - put out by a group of IT services firms, clients, consultants and suppliers - showed that the number of IT jobs jumped more than 7,000 during the month to 4.07 million. The uptick in jobs may result in a larger enrollment of students earning a computer science degree as people continue to search for more stable jobs.
Similarly, a Colorado university recently reported an increase of women pursuing a computer science degree. The number of women in the school's program more than doubled due to a university initiative. In 2011, it reported that 47 women were in the program compared with just 18 in 2007, the school newspaper reported.
"According to both data and the anecdotal reports of my member companies, demand for IT professionals in key skill sets remains strong," said Mark Roberts, TechServe Alliance CEO. "While there is still considerable weakness in overall job market with 9 percent unemployment, there is actually a shortage of qualified professionals in high-demand IT skill sets. We remain bullish on the prospect for continued growth in IT employment as we enter 2012."