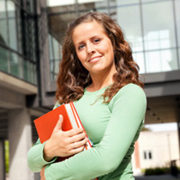 Apple Announces 4G iPad
Friday, Feb, 23, 2018 05:58PM
Tech giant Apple announced its newest iPad on March 7, the first product from the California company to be launched after the death of former CEO and visionary Steve Jobs. The new device may bring about big changes to the future occupations of those who earn a computer science degree or receive ecommerce training.
The high-definition iPad's starting price will be $499, and it includes 16 GB of storage, a 9.7-inch screen and a retina display of 2,047 by 1,536 pixels - a big improvement from the iPad 2's display, which has 1,024 by 768 pixels.
"It is amazing," Apple CEO Tim Cook said at the unveiling in San Francisco. "We've taken it to a whole new level, and we are redefining the category that Apple created with the original iPad."
Pre-orders for the device were opened on March 7, and they're set to hit stores on March 16. The 4G device is said to have the most wireless brands of any device, and its 5-megapixel camera will allow for sharper photos than the current model.
The new device may provide more room for new and unique ecommerce opportunities exclusive to the iPad 3, and its release is proof that the computer science industry isn't slowing down any time soon.