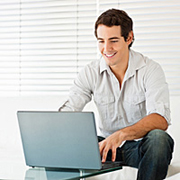 Computer Scientists Work with Kids
Monday, Apr, 9, 2018 04:51PM
To discover new innovations and continue to push the envelope, computer scientists often research the world of technology in an effort to learn how existing functions can be improved upon to apply to the current world. However, researchers at a California university who hold a computer science degree or online computer science degree are studying subjects that may be even more temperamental than technology - children.
Forty-six children at the university's Child Study Center participate in activities in such a way that computers struggle to understand, so scientists are turning their focus to the kids in an effort to improve the center's computers. Children often require more hand-holding when using computers, as their activities are not as well-defined and simple as calculating arithmetic.
Should the researchers be successful in figuring out how to improve computers' ability to decide what information is relevant, the industry as a whole would be greatly improved. Alison Gopnik, a leading developmental psychologist at the CSC, offered the San Jose Mercury News an analogy that describes how they are trying to train the computers.
"A child wants a toy from his brother. He steals it, and his brother cries. His mother gets upset, and the child who took the toy wonders why," she told the newspaper. "Was it because his brother cried? Was it because he stole the toy? Or was it something else?"
Those thoughts are now stored in the boy's mind, so further similar incidents will ultimately help the boy figure out the cause and effect of his actions.
For years, computers have played a role in advancing education, serving as an integral interactive tool to keep children interested and stimulated during learning exercises. According to a 2011 study from an Ivy League university, 60 percent of homes with children ages 8 to 17 have computers, most of which are connected to the internet.
"The increased level of interactivity now possible with computer games and with the communication features of the internet has heightened both the promise of greatly enriched learning and the concerns related to increased risk of harm," read the study's summary. "As a result, research on the effects of exposure to various types of content has taken on a new sense of urgency. The authors conclude that to help inform and sustain the creation of more quality content for children, further research is needed on the effects of media on children, and new partnerships must be forged between industry, academia and advocacy groups."