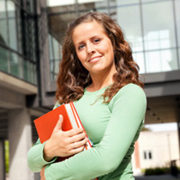 Company Opens for Business in Space
Friday, Apr, 13, 2018 02:46PM
California's Space Exploration Technologies Corporation is boldly going where no other company has gone: the International Space Station.

Known as SpaceX, the company is the first private company to send a spacecraft to the station. Those with a business administration degree or online doctorate degree in business who work at the company may not have foreseen their career going to space.

NASA is hoping to outsource space missions to private companies more often since the closure of the U.S. space shuttle program. For the time being, participating companies will transport cargo, but eventually, astronauts will be part of the missions.

"Today marks the beginning of a new era in exploration; a private company has launched a spacecraft to the International Space Station that will attempt to dock there for the first time," NASA Administrator Charles Bolden said in a speech at Cape Canaveral, Florida. "And while there is a lot of work ahead to successfully complete this mission, we are certainly off to good start."

SpaceX launched Dragon, its cargo capsule, on May 22, and it was captured by a robotic arm the morning of May 25, high above northwestern Australia. During the capsule's journey, SpaceX and NASA conducted tests to check its operations.

After passing the tests, the Dragon slowly approached the station. The approach was designed to be slow so navigators could send the Dragon off safely if something went wrong. NASA is now determining when the spacecraft should dock with the station and when crews should unload its cargo, water and clothes.

"There's so much hope riding on that rocket," Elon Musk, SpaceX's founder and CEO, sad at the company's Hawthorne, California, headquarters. "When it worked ... and they saw their handiwork in space and operating as it should, there was tremendous elation. For us, it's like winning the Super Bowl."