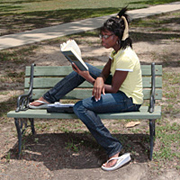 New Center Strives to Innovate Digital Data
Wednesday, Apr, 18, 2018 04:38PM
A Massachusetts university announced a new program that focuses on computer science and other web-based industries on May 30 in conjunction with Intel Science.
The Intel Science and Technology Center for Big Data plans to focus on making sense of internet data generated by the financial, medical, social media and security industries. The breakthrough research will benefit those who have or are studying for a computer science degree or online computer science degree.
Big data research includes examining and improving upon hardware, software and ways to improve technology trends. This will affect computer science by providing jobs in new fields and increasing the speed of innovation.
The center aims to organize the unstructured nature of big data that makes it unable to work well with conventional database systems used today. Challenges and opportunities are abundant within this field, and Intel is planning to explore those features.
"We are witnessing unprecedented growth in unstructured digital data and this will only accelerate further through the rapid increase of mobile internet devices such as phones, cars and signs, and the projected development of the 'Internet of Things,' which will be constantly sensing the world around us," said Justin Rattner, Intel's chief technology officer.
According to National Public Radio, the job market for those with a computer science background is plentiful. Developers and engineers are wanted in some states, and the center seeks to accelerate scientific and medical findings and expand innovation in data-intensive end-user experiences to inevitably create more.
As the internet is a huge part of communication, sharing and abundant data, researchers in the field will be exploring new methods that provide safe and secure interaction on the web. Mobile devices and connected automobiles are a main focus of the researchers.