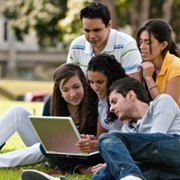 Computer Science Graduates Now Named the Cool Guys
Saturday, Apr, 28, 2018 05:17PM
College majors once derided as nerdy are now producing some of the nation's most sought-after graduates. According to a report released by CareerCast.com, those with an engineering, information technology or computer science degree are likely to have better pay and are more likely to get a job than graduates who hold many other types of degrees.
Those who have a grasp on computer engineering information or similar topics are sitting pretty even in a tough economy. On CareerCast's "best jobs" list, software engineer and computer scientist beat out traditionally prestigious jobs like investment banker and doctor.
Engineers and other technical professions are reported to be among the most flourishing in the nation, and many companies are hiring workers in these areas.Tony Lee, publisher of CareerCast.com, said corporate recruiters are searching high and low at some of the nation's top universities to find suitable candidates for technical positions, but are still seeking to hire on more individuals.
"The problem is that we are not producing enough computer science graduates to meet the growing global demand," said Michael Buryk, business development manager at the Institute for Electrical and Electronic Engineering. "Even electrical engineers, especially those who work as power engineers, are in short supply, especially given the growth in the fields of alternative energy and Smart Grid."
As the technological fields are advancing, some schools are taking steps to improve their programs. An Idaho university is receiving $700,000 to improve its computer science department as part of a state research initiative, according to the Idaho Statesman. The money will be used to hire new faculty as the university strengthens the department. The state's high demand for such positions are not met by the number of graduates in the field.