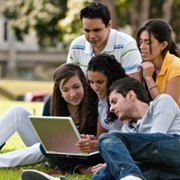 Business administration degree programs use acting as a teaching tool
Sunday, Nov, 18, 2018 02:54PM
Individuals who are considering enrolling in a management degree program at a campus-based or online school may want to brush up on their acting skills, as many business colleges are beginning to integrate the dramatic arts into their curricula.

For instance, MBA programs in both Virginia and North Carolina currently offer classes that require enrollees to practice their leadership skills using the performing arts, according to U.S. News and World Report.

Some business classes are using acting as a means to teach students to work together. These courses may require students to work on semester-long performances, which they will to act out at the end of the term.

Other business schools are using acting as an avenue for role-playing. At these institutions, students may be asked to act out certain scenarios and act out their proposed solutions to these issues on-the-fly.

In any case, these types of classes could serve as ample preparation for a career in negotiation or conflict management.

According to the Bureau of Labor Statistics, the demand for human resources manages who handle these issues is expected to grow by 22 percent over the next eight years.