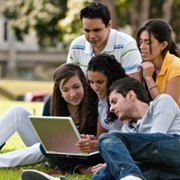 Experts: Business administration degrees are well worth the time, money
Tuesday, Sep, 25, 2018 09:38PM
Although some students may worry that committing to a full-time campus-based or online college degree program could stunt their career development, industry professionals say that MBA programs could produce a high return.

Researchers from a Texas-based school recently revealed that business professionals who earn an MBA degree could increase their salaries by 10 to 83 percent, depending on their field and specialties. In addition, individuals who complete these types of programs could see their investment pay off within three to five years.

As a result, MBA holders could earn a great deal more than undergraduate degree holders over the course of their careers. The pay increases associated with an MBA degree could be worth thousands of dollars per week to some professionals, according to the Bureau of Labor Statistics.

To help busy adults earn these degrees without falling behind on their personal and work-related responsibilities, many campus-based and online schools have begun to offer convenient programs that can put business professionals on the fast track to a lucrative career.