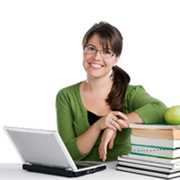 Online class enrollment on the rise and supported by both students and faculty
Wednesday, Sep, 11, 2019 04:48PM
Students in the Salt Lake City area are finding that earning their degrees online are making their goals of achieving a higher education a reality, reports the Deseret News. The number of individuals utilizing online courses had increased significantly over the last five years, and continues to rise as more universities offer flexible class work and degree options.
Utah residents are able to complete programs such as a financial degree through an accredited university based out of Boston. This allows students, especially ones that are non-traditional, older or who have full-time employment, find the time to complete a bachelor's or master's degree at their own convenience.
Several professors prefer to teach online classes as well because of the flexibility and diversity of the student body. Some say they feel the varied options and intelligence brought to light through discussions can enrich a class unlike a normal campus course would.
According to a 2010 questionnaire by the Sloan Survey of Online Learning, more than 5.6 million students at 2,500 colleges and universities had taken at least one class in higher education online in the previous year.