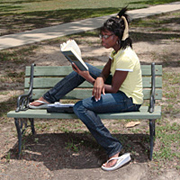 Online college courses in graphic design can lead to various careers
Thursday, Dec, 13, 2018 10:10PM
As more companies look to expand their online presence, the demand for web and graphic designers who hold degrees from campus-based or online colleges is expected to increase.

In fact, the Bureau of Labor Statistics reports that nearly 40,000 positions will become available to these professionals over the next eight years. Furthermore, job seekers who have web site design or animation skills are expected to see the most favorable prospects.

As a result, many campus-based and online colleges are increasing their offerings in related fields an effort to cater to the growing need for these workers.

For example, an Arizona-based school recently announced that the curriculum for its graphic design program is intended to lead graduates to careers in various industries, including advertising and web design, the Coolidge Examiner reports.

Similar campus-based and online college degree programs will teach enrollees how to use various tools of this trade, including Adobe Photoshop, Illustrator, InDesign and Dreamweaver. Degree seekers may take classes on subjects such as graphic design, digital photography, small business management, mass communication, web design and layout as well as art history.