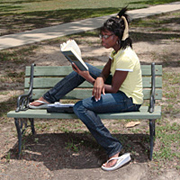 U.S. colleges join trend by offering online business administration degree programs
Friday, Jan, 27, 2017 03:04PM
A college in Ohio is expanding its digital curriculum by adding an online business course.

According to the Cincinnati Enquirer, the school will offer an introduction to marketing class that is designed for students who are pursuing their master of business administration degree. The dean of the college said that the new web-based course is part of a trial to see if the business school can add more online classes in the future.

He said that online courses are among the biggest trends in higher education because they allow students to enroll in classes despite distance constraints or conflicting work schedules, the news provider reports. Furthermore, they are typically less expensive than traditional courses.

The dean, who arrived at the Ohio-based university in August, plans to revamp the business degree program by strengthening industry connections for scholars. Part of that transformation, he told the news source, is adding web-based opportunities for aspiring entrepreneurs. In the other programs offered at the institution, approximately 3,500 students are currently enrolled in online classes.

Meanwhile, an all-business school in Michigan is trying to spread the word about their online management degrees. The college is hosting a "webinar" on November 18 for professionals who are interested in earning an MBA or master of management (MM) with a specialization in Health Services Administration.

The 45-minute web session will provide information about the course content and admission requirements. Sheila Ronis, who is the current chair of the Vision Working Group of the Project on National Security Reform in Washington, DC, is scheduled to participate in the webinar. Ronis, who is also director the MBA and MM programs, said that there will be a need for qualified health service administrators as the population continues to age and and the healthcare industry expands.

According to the Bureau of Labor Statistics (BLS), the number of employment opportunities for medial and health service managers is expected to grow by 16 percent over the next eight years. The bureau reports that managers will be required to recruit workers, implement new technology and ensure the security of computerized patient records.

Individuals who have a master's degree in health services administration may start as department managers or as supervisory staff, according to the BLS. Candidates who have graduate school experience are also likely to be hired by medical group practices, mental health facilities, consulting firms and clinics.

The BLS says that, on average, medical and health services managers at general hospitals earn approximately $80,240 per year. Administrators at outpatient care centers make about $74,130 per year.