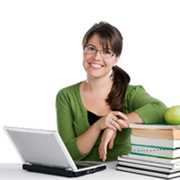 Online bachelor's degree in education combines academics and technology
Sunday, Feb, 5, 2017 03:50PM
A web-based college has announced the launch of a new bachelor's degree in education studies that is designed to prepare aspiring teachers for the modern classroom.

The new program combines core teaching necessities with the the requirements of digital and distance learning. Scholars may specialize in early childhood education, child development, instructional design, English as a second language as well as education and public policy. The bachelor's-level coursework aims to support a variety of careers in the education industry, including administration, childcare, healthcare, mental care and social counseling.

The institution's college of education program director said that the new bachelor's degree will help teachers understand the importance of technology in a 21st-century curriculum. According to the Bureau of Labor Statistics (BLS), computers play an integral role in the instruction that teachers provide. Teachers must continually update their skills to adapt to the latest innovations in the classroom, the BLS reports.

The bureau states that most public school educators need to earn a bachelor's degree and teaching license. Every state has developed alternative licensure programs for teachers who have a bachelor's degree in the subject that they plan to teach.