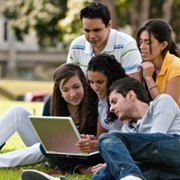 For-profit college adds online bachelor's degree in cultural anthropology
Sunday, Feb, 26, 2017 03:55PM
An Iowa-based school that offers college programs online recently announced that it has added a bachelor's degree in cultural anthropology.

The institution has launched the new program in an effort to prepare students for an increasingly globalized business world. According to the program director for the school's college of education, the online bachelor's degree will educate scholars about social and cultural differences, and will equip students with the skills they will need to succeed in inter-societal partnerships.

The online degree courses will cover a variety of topics, including urban studies, anthropological theory and other specialized disciplines that focus on specific cultures. The web-based classes are designed to bolster a student's capacity to recognize the influences and counter-influences of cultural interaction on a global scale, thus strengthening their ability to assist in corporate or scholarly relations between different entities.

The Bureau of Labor Statistics (BLS) projects that the number of job opportunities in this field will grow, specifically on the federal level. Agencies such as the U.S. Department of Defense will need more professionals who can assess the regional customs and values of a foreign society, the bureau states.

Cultural anthropologists, also known as social scientists, must have excellent written and oral communication skills in order to report their research findings, according to the BLS.