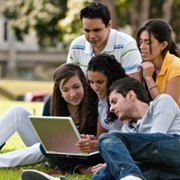 Married couple met through online college classes
Sunday, Apr, 2, 2017 05:09PM
Online schools are designed to foster learning, not social networking, but that doesn't mean that some college degree programs can't play Cupid.
A for-profit university that offers online degree courses recently reported that two of its students - Jeremy and Linda Phillips - will celebrate their four-year anniversary of their first face-to-face meeting on Valentine's Day. The scholars first conversed in a forum for their comparative religions class.
Jeremy, who was pursuing his online bachelor's degree, clashed with Linda on certain topics that were discussed in the class. The disagreement led to emails, which eventually prompted a face-to-face meeting. Several years later, the two are married and have one child together.
After she earned her online degree, Linda became active in her community. She currently works as a substitute teacher and plans to pursue her master's degree in counseling. The Bureau of Labor Statistics reports that the number of job opportunities for marriage and family counselors will increase by 14 percent over the next eight years.
Aspiring therapists may consider pursuing an online doctorate degree, which could help these individuals start their own practice.