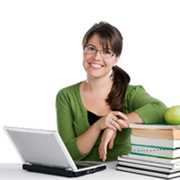 Online degree programs experience colossal growth
Monday, Apr, 3, 2017 03:10PM
Obtaining college degrees online has become increasingly more popular over the last decade. According to U.S. News and World Report, enrollment in web-based schools has grown by approximately 823 percent since 2002.
The popularity of these online schools has surged for a variety of reasons, but perhaps none are more appealing to students than the flexible class schedules of these courses. Many working professionals and parents are unable to commit the regimented structure of traditional college degree programs, so they have turned to accredited online schools in order to start a new career or supplement previous educational efforts.
Although some institutions exclusively offer online degrees, there are many campus-based colleges and universities that have added internet programs in order to attract new students. For example, a college in Nevada recently announced that it will launch online bachelor's degrees in business administration and psychology. School officials stated that the new program will allow scholars to transfer credits from community colleges and other postsecondary institutions, and apply them to a four-year degree.
Students who are interested in business may consider pursuing an online MBA. Individuals who have a passion for the mental process and other behavioral sciences could thrive in organizational leadership roles. Some schools offer human resource management degrees online, which may include project management training courses.
The surging popularity of web-based programs has also led to expansion for companies that provide the tools and platforms for online institutions. For example, a Boston-based organization recently announced that it has opened a new location in Austin, Texas. The company serves 450 colleges and thousands of high schools in America, and its new location in Texas will likely attract new clients in the Southwest.
According to TheCareerPeople.com, the U.S. Census Bureau reports that individuals who hold a college degree earn approximately $1 million more over their lifetime than those who have only earned a high school diploma. Although some people who have dropped out of high school believe that it is too late to get their diploma and pursue a higher education, online GED programs allow students to get back on track toward a profitable career.
In addition, there is a common misperception among college dropouts or bachelor's degree holders that their previously-earned credits expire after a certain period of time. Many web-based institutions will accept past experience if scholars are interested in enrolling in online master's degree programs.