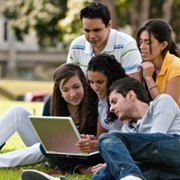 New agreement allows aspiring teachers to attend school in U.S., Canada
Thursday, Apr, 6, 2017 02:56PM
A new partnership between a North Dakota-based college and a Canadian institution will provide students with a unique opportunity to earn a degree in teaching.
According to the Leader-Post, the agreement creates a "concurrent" educational degree by allowing students to attend school on both sides of the border. In five years of study, scholars can earn a diploma from both schools, which gives them options to pursue a teaching career in either country.
The dean of the U.S. school's college of education and health sciences told the news provider that this partnership was reached because both schools attract international students. He said that the North Dakota college's student population typically consists of up to 8 percent from Canada. However, he added that it has been as high as 20 percent in recent years.
Individuals who are enrolled in education online degree programs in America certainly don't have to leave the country for jobs. The Bureau of Labor Statistics projects that the number of job opportunities for teachers will increase by about 13 percent over the next eight years.
The bureau predicted that states in the South and West will experience the most significant demand for teachers, while the Midwestern states are expected to hold relatively steady.