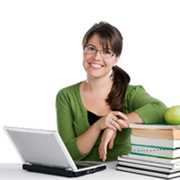 Cost relief, career prep add to appeal of online schools
Wednesday, Apr, 12, 2017 05:15PM
There are a variety of reasons why many individuals choose to enroll in online college degree programs over campus-based institutions, but perhaps no factor is more influential than finances.
The cost of tuition at traditional schools steadily increases each year, as does the price for other education-related expenses, such as room and board, books as well as transportation. Many students have opted for web-based college degree programs because most online schools offer flexible scheduling options, which allow scholars to earn income through a part-time or full-time job.
In addition, online education courses can be completed in the comfort of one's own home, which can help individuals avoid travel or room expenses. Many scholars defray these campus-based costs by relying on Federal aid. However, President Barack Obama's most recent budget proposal for fiscal year 2012 includes potential cuts in the popular Pell Grant program.
According to The Huffington Post, Obama's plan would eliminate year-round Pell Grants, which allow students in accelerated programs to receive multiple financial aid packages in a single year. Scholars who would have leaned on the year-round grants in order to afford the tuition at campus-based undergraduate programs may consider pursuing an online bachelor's degree.
In addition, the President's budget calls for the eliminated of the subsidized interest benefit on Stafford loans for graduate and working students. if approved, this would add thousands of dollars to the debt burden for each graduate student who has taken out loans. Some online schools offer master's and doctorate degree classes as cheaper alternatives, which could help students avoid loans altogether.
Furthermore, some web-based degree programs allow individuals to choose which classes they want to take, while many traditional schools mandate that students complete a set of prerequisite courses before they can concentrate on their major field of study. According to a recent Harvard University report, titled Pathways to Prosperity, the U.S. has the highest college dropout rate in the industrialized world because many students are forced into courses they do not want to take and the financial burden becomes too much for continued enrollment.
According to the study, only 40 percent of 27-year-old Americans hold an associate's degree or higher. The report's authors suggests that students and the American economy would benefit if more young people learned a specific trade. Career-oriented programs can better equip professionals for the workforce, as well as reduce the amount of time people have to spend taking unrelated courses.
For example, students who are skilled in math may consider taking tax courses online, while scholars who are task-oriented and strong leaders can enroll in project management training courses.