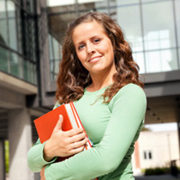 Online degrees and certificates are popular among aspiring professionals
Friday, Apr, 28, 2017 04:29PM
The popularity of community colleges and accredited online schools has surged in recent years as tuition rates continue to rise at campus-based institutions.
Many individuals have discovered that by pursuing online degrees and certificates, they receive the same career advancement opportunities without having to commit the time and money that are required by many traditional colleges. In addition, some two-year programs and web-based classes offer an education that is more direct and relevant to one's field of interest. A lot of four-year college degree programs mandate that scholars complete a set of prerequisite courses that do not relate to their career aspirations.
According to NBC news affiliate WBOY, a West Virginia-based community and technical college has expanded its associate degree and certification programs to meet a growing demand from students and employers. On human resource official from a local business told the media outlet that it is hiring a lot of candidates who have backgrounds that don't require more than a two-year degree. He added that bachelor's programs typically include a lot of theory education, which is valuable, but not always applicable to the majority of job openings.
The flexible schedules that are offered by many online college courses and two-year schools may also allow scholars to focus on two different concentrations. For example, one West Virginia student said that he is working toward criminal justice and homeland security degrees in order to expand his options following graduation.
Individuals who are interested in both of those fields may consider pursuing cyber crime justice degrees online. In addition, computer support technician training lessons may also prepare students to enter the web security industry.
Meanwhile, the most populous city in the U.S. has also seen a spike in student interest in community colleges. In response to this trend, a board of trustees recently approved a new two-year school in New York City.
The institution's founding president said that the community college will be geared to low-income, first-generation students. The school is scheduled to open in the fall of 2012 with 500 students in its inaugural class.
Societal trends have also contributed to the increase in popularity of accelerated degrees and certification programs. For example, a San Diego-based school recently announced that it has expanded its department that offers green building construction certificates.
The ecofriendly industry is expected to grow significantly. During his State of the Union address in January, President Barack Obama revealed that his Better Building Initiative aims to increase energy efficiency in commercial buildings by 20 percent over the next decade.