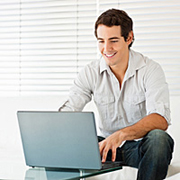 Online college adds program devoted to blogging
Wednesday, Mar, 15, 2017 03:45PM
A distance-learning college recently announced that it has launched an online education program that focuses on professional blogging.
The accredited online school designed the curriculum for individuals who are seeking in-depth instruction on the creation and marketing of blogs. The college added the course of study in response to the growing number of people who are paid to write or manage blogs.
According to The Wall Street Journal, about 1.7 million Americans are blogging professionals, and approximately 500,000 of these individuals rely on the craft as their major source of income.
The courses cover a variety of topics, such as the basics of blogging and how to increase traffic to websites. Other classes focus on choosing the right service, as well as common mistakes that are made by bloggers.
School officials said that course schedules are flexible, which may allow students to pursue career goals while fulfilling their work or family responsibilities.
The Bureau of Labor Statistics (BLS) reports that training and experience for writing jobs can be obtained by working for local newspapers, radio or television stations. Online publications typically require that their employees have knowledge of computer software and editing tools.