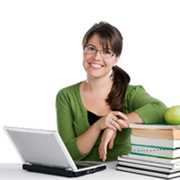 College programs online work to end shortages of healthcare professionals
Tuesday, Jun, 20, 2017 09:20AM
The future is expected to bring a great need for more healthcare professionals, including nurses and individuals who have information technology skills. In order to prepare more people to enter this field, schools across the country have launched new college programs online and are working to expand enrollment in their current courses of study.
In the nursing profession in particular, the Future of Nursing estimates that by 2020, there will be a professional shortage of between 340,000 and 1 million full-time registered nurses (RNs). Many schools around the county are working to prepare more students to fill this void by offering nursing programs, specifically online associate's of science in nursing (ASN)-to-bachelor's of science in nursing (BSN) courses of study.
According to the Bureau of Labor Statistics (BLS), a student can become an RN with an ASN, but there are many advantages to completing an online nursing RN to BSN program. For example, a BSN often gives professionals more training in topics such as critical thinking, communication and leadership, which will be important to fill more complex healthcare positions.
A BSN degree is also required for administrative positions as well as jobs in research, consulting and teaching, the BLS reports.
There will also be an expanding need for individuals who have information technology skills, such as those in health informatics, to enter the healthcare discipline. The BLS states that employment opportunities in careers such as medical records and health information technicians are expected to increase by 20 percent through 2018.
The U.S. Department of Health and Human Services states that careers in health information technology will continue to grow due to increases in modern technology. Professionals in this field will be responsible for managing patient care using modern tools such as electronic health records.
In order to encourage more individuals to earn a health information technology degree, the Office of the National Coordinator for Health Information Technology, with the help of other federal programs, has provided millions of dollars in grants to online and campus-based schools across the country.
For example, an Indiana-based university recently received funding from the organization so that it can expand its graduate certificate and online master's degree education in the discipline. With the grant money, school officials said they can expand enrollment in their health information technology programs by about 50 percent.