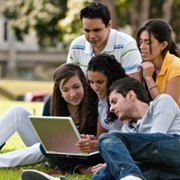 Wisconsin university expands online course offerings
Wednesday, Jul, 12, 2017 05:29PM
Many people often put off getting their college degree, as their educational pursuits could leave little time to make any income. Luckily, online programs exist to work with these individuals' schedules, and a Wisconsin-based university has recognized this need by expanding its current selection of web-based course offerings, according to radio news channel WSAU.
The college will be using MyTrack, a program on the internet that will help facilitate the process of earning a degree online. Jim Rosenberg, the school's Adult Student Coordinator, told the news source that the institution has been working on a way to expand their online course offerings for a while, and that it should be beneficial to those with only a high school diploma.
He added that most business are eager to hire individuals who hold, at the very minimum, an associate's degree.
The new course offerings at the Wisconsin college have expanded to 16, including a bachelor's degree in online business administration. Other offerings include engineering, American studies, criminal justice, elementary education, nursing and psychology, among others.
Most of the programs in MyTrack are accelerated, offering students a faster way to get their degrees online.