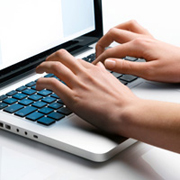 Prospective students may benefit from virtual open houses
Saturday, Jul, 29, 2017 05:03PM
Oftentimes, those who want to pursue higher education do not have the time to devote to a brick-and-mortar school's schedule, which makes an online bachelor's degree education a more convenient option, as students are encouraged to work on their own time. To learn more about these options, prospective students should check out a virtual open house.
For instance, one online university will be holding an open house in the near future, giving individuals the opportunity to chat with admissions representatives, who will assist people with information about applications, career services, and much more. There will also be financial aid representatives on hand to answer questions about FAFSA, scholarships, military benefits and other tuition-related inquiries.
This web university offers both associate's and bachelor's degree programs in business, criminal justice, finance and accounting, healthcare, human resources and information technology.
Scott Traylor, the online college's associate campus director, says that the virtual open house is easy and convenient for those who are interested in learning more about a web-based educational program.