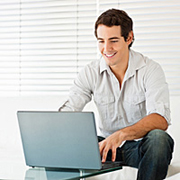 List Released of the Best Accredited Online Degree Programs in the Nation
Friday, Sep, 1, 2017 12:06PM
Schools across the country are striving to accommodate non-traditional students with innovative programs and degree tracks that help them obtain the finest education possible. The Best Colleges recently released a list of the most superior online institutions for obtaining bachelor's and master's degrees in the U.S.
According to the organization's website, an accredited school based in Pennsylvania came in first place. The institution was judged on various facets of its programs, including its student-teacher ratio, percentage of students receiving financial aid and the graduation rate.
Tuition fees at this school are reasonable and the more than 70 programs offered are diverse, including nursing, education and engineering. Even though classes are taught through virtual classrooms, the student-teacher ratio remains low so those taking college programs online can still benefit from the school's superior standards.
Since 1982, the institution has been utilizing alternative means of educating its students besides simply having them on campus. This has made the university a pioneer in the age of online degrees.