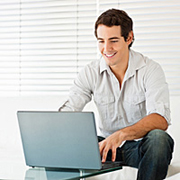 Texas Institution Offers New Nursing Program Online
Thursday, Sep, 14, 2017 04:16PM
Nurses are in constant demand, for they fill positions in a variety of places, including nursing homes, hospitals and rehabilitation centers. Many institutions understand that although individuals would like to have a career in this field, they may not be able to leave a current occupation or other responsibilities. However, some schools, such as one based in Texas, are adding college programs online in nursing to open up additional opportunities for non-traditional students.
The college's new online program allows students to complete a master's of science in nursing credential. The degree track may be completed in 18 months and all coursework is completed through the internet.
Students who have already completed a bachelor's degree in nursing from any accredited institution may apply for this university's program.
According to the Bureau of Labor Statistics, students may obtain jobs in hospitals with an associate's or bachelor's degree, but, in general, nurses will have more opportunities and earn higher salaries with a master's of science in nursing credential. Students who are currently employed in the healthcare industry may complete their master's degree with college programs online that can work around their schedule and potentially earn higher pay in the future.