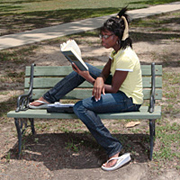 MBA Students Learning More About Ethics
Sunday, Oct, 15, 2017 03:49PM
Social, environmental and ethical impacts of business decisions is a growing area of focus at business schools, according to a report from the Aspen Institute. Students earning business administration degrees are being taught about ethics at a higher rate, spurred by the economic downturn as well as increasing student demand and faculty willingness to explore the issues.
Every two years, the Aspen Institute conducts the Beyond Grey Pinstripes survey, and this year's installment was the group's first chance to analyze the effects of the economy on business curricula. Students also are learning what business leaders can do to meet the needs of society, such as conserving energy and creating jobs.
According to the U.S. Department of Commerce, good ethics can benefit a business in many ways: it can enhance its reputation, reduce risks and costs, increase profits, expand access to capital and foreign investment, and spur long-term growth.
"In all scoring categories used to determine the ranking, business schools have raised the bar," said Judith Samuelson, executive director of the Aspen Institute Business and Society Program. "There are more courses than ever before with content on social, ethical, and environmental issues, more courses about the role of business as a positive agent for change, more exposure of students to this content, and more research published by faculty on relevant topics."
One company well-known for its business ethics is Google, which announced in 2008 it would set aside 1 percent of its profit and equity until 2011 - up to $175 million - to "make the world a better place." It began Google.org to engineer solutions to global challenges like climate change, clean energy and global health.
The company has scholarship programs and gives month to academic faculty pursuing research in areas Google favors, like science, engineering, mathematics and computer science.
In 2010, rather than giving holiday gifts to clients and partners, Google donated $20 million to charities that had seen a decline in giving due to the economic downturn. That year, it donated more than $184 million to charities, nonprofits and academic institutions.
The Aspen Institute's Business and Society Program examines the broader impact of corporations on the world instead of just on profits. The organization also conducts a survey to pinpoint the world's greenest schools. For the survey, 149 schools from 22 countries submitted data, including more than 6,000 course descriptions and faculty research abstracts.