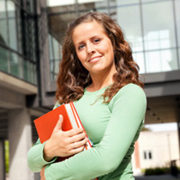 Small Business Study Finds Mixed Results
Tuesday, Dec, 19, 2017 04:54PM
Students earning a business administration degree or general business degree online may encounter a changing small business climate in coming years, and a new study from the National Federation of Independent Business details changes and trends that may pop up in 2012.
Among the findings is that even if a company's sales double, 94 percent of respondents who employ 10 or more people said they wouldn't double the number of employees. By contrast, just 73 percent of respondents think doubling sales in five years would be very positive, and 83 percent think it would be mainly positive.
"What is perplexing about their views on growth is that, while the vast majority of small employers think growth is good and presents little or no risk, many owners simply do not follow through," said William Dennis, senior fellow at NFIB Research Foundation. "We are forced to conclude that growth constraints are seldom self-imposed; instead, growth impediments are external, the consequences of environmental actors and phenomena beyond their control."
A recent survey from TD Bank polled 300 small business owners from Maine to Florida to see what they would most want for Christmas, and the most popular response was more sales. Thirteen percent said they would most like their debt eliminated, 11 percent wish for raises or bonuses for current employees, 6 percent want new equipment or software, 5 percent would like more employees and 4 percent listed a new or larger facility as the top desire. Just 1 percent of respondents said they would most want a bonus for themselves.
"With economic pressures likely to continue in 2012, it will be more important than ever for small businesses to find creative ways to grow sales and keep a close eye on cash flow," said Fred Graziano, head of regional commercial banking, government banking and small business.
The survey also asked small business owners what their New Year's resolutions would be, and the most popular change was spending more time on sales and marketing, which was the top change 26 percent of owners would make. Twenty-two percent pledge to eliminate debt, 16 percent would improve cash flow and 13 percent aim to develop a better business plan.
MasterCard Worldwide and Microsoft Corp. recently announced an effort to aid small businesses in the form of a 10 percent discount to eligible small business cardholders who purchase Office 365. The program is a cloud productivity service that allows members to access email, documents and other files from virtually anywhere.