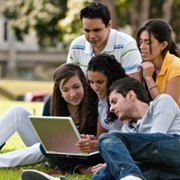 Successful San Diego Hybrid MBA Program Begins New Semester
Sunday, Dec, 31, 2017 06:27PM
As 2012 gets underway, college students around the country are returning to campuses and online students are hunkering down on their computers to re-enter virtual classrooms and begin a new semester. In some cases, thanks to hybrid programs combining online and in-person learning, students are doing both.
One such hybrid program is the business administration degree program offered by a San Diego university, where on-campus classes begin the first week of January and meet once per week for the remainder of the semester. In between the weekly sessions, students participate in the program online.
The scheduling flexibility afforded by this program has made it attractive to working professionals looking to advance their careers and receive ecommerce training. "The degree has taken my marketing and consulting to a new level," said one 2010 MBA graduate of the school. "High level presentations have doubled my sales in the last seven months."
Like many other hybrid MBA programs, the San Diego school - ranked one of the top 10 local MBA programs by the San Diego Business Journal - offers concentrations in a variety of areas, including international business, finance and technology management.
While hybrid programs are well-suited to working professionals, pure online programs continue to grow in popularity as a means for those with some college credit to complete a degree. About 37 million Americans have some college credit but no degree, and the state of Indiana has encouraged residents with partial college credit to enroll in online classes by allowing residents to use state grants to cover tuition at certain institutions, according to a NPR report.