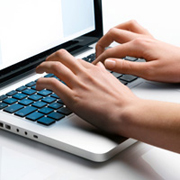 Study: Online Shopping Carts Often Abandoned
Tuesday, Mar, 20, 2018 04:31PM
Two years ago, Forrester Research and MarketingSherpa released surveys that showed more than 50 percent of online shopping carts are left by customers who never complete the purchase.
A recent study examined the ecommerce websites and purchase processes of 100 retail brands to find out why such a high number of consumers don't follow through. The study's results may be integral to ecommerce success for retailers operated by executives with a business administration degree or those who earned a general business degree online.
"From Abandon to Conversion: Why Shoppers Abandon Carts and What Merchants Can Do About It," released by Bronto Software, said user experience, indecision, technical issues and product costs or additional fees like shipping are major contributors.
"The level of missed revenue for retailers is astounding when you consider that over 50 percent of online transactions end in an abandoned shopping cart," said Jim Davidson, Bronto's manager of marketing research. "The good news is that much of this revenue can be recovered. Our report outlines strategies and tactics that merchants can employ to convert a greater share of abandoned carts to sales without a major effort."
The study found an average of 5.6 web pages from cart to order confirmation, which may cause some consumers to lose interest or rethink their purchase. Thirty-five percent of brands also don't display security certificates during the process, leaving some consumers to question their internet safety.
Sending follow-up messages to consumers who abandon their shopping carts can often lead to increased sales, but the study found just 13 percent of companies sent such a message, and only 5 percent sent a second note.
Following the record numbers generated by the holiday shopping season, Practical eCommerce offered some tips that could help retailers maintain strong numbers. Having a large product assortment, expanding into foreign markets and improving customer experience are keys to get large sales numbers. The firm also said raising prices could prove successful, although some consumers may disagree.
"To be sure, you should increase prices infrequently," Gagan Mehra said on Practical eCommerce. "But it's the easiest way to make more money. Compare prices with your competition to determine if you can increase them. Then, check the tolerance level of your customers by informing them in advance."