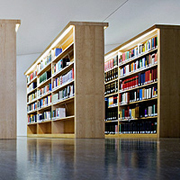 Green Buildings Boost Employee Productivity
Thursday, Mar, 22, 2018 04:37PM
Attendees of the recent Carrier Global Engineering Conference in Las Vegas received lessons about the positive impact of green buildings on worker productivity and morale. Rick Fedrizzi, president, CEO and founding chairman of the U.S. Green Building Council presented the keynote address that included information that may be of interest to those who earn a business administration degree or a general business degree online.
"Green building is good business. Green building certifications attract tenants, employees, even students and help to keep them. ... People want to work in green buildings, and comfortable, happy workers are more productive workers," Fedrizzi said at the event, themed "People, Planet and Performance."
Other physical features of buildings that can promote better moods and productivity include ample natural daylight, as well as natural materials like stone, wood or glass. Many workers also complain about an office's temperature, so individual controls may keep everyone happy.
Many studies have shown the positive impact of biophilia on employees, which is a concept that promotes the bond between human beings and other living systems, such as green walls covered with plants.
The Sustainable Buildings Industry Council offers green building tips to architects, engineers, builders and other members. Small commercial buildings should have passive solar design techniques and conventional energy-saving measures, it said. Its program also covers 16 sustainable strategies that would help save energy and boost morale, such as lighting controls, daylighting, energy-efficient lighting, natural ventilation and evaporative cooling controls.
The SBIC also has guidelines for schools, which it launched in the late 1990s because of the predicted surge in the U.S. population. Millions of square feet of new schools are built each year, and school districts increased spending on construction from $23 billion to $25.3 billion in 2006, it said. Its program covers issues like accessibility, safety and security, durability and classroom acoustics.