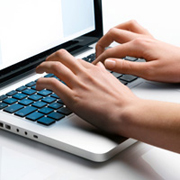 Study: Business Value Goes Unmeasured
Monday, Apr, 2, 2018 04:18PM
Having a top-notch website is important for companies and organizations of all kinds, but it's especially important for businesses looking to build a positive relationship with customers and clients. However, a recent study from Extractable, a digital design agency, found that many companies fail to measure the business value of their web experiences.
"Data-Driven Design," which was conducted by Forrester Consulting, examined how companies use data, what tools they use, what hurdles they face, and what outcomes they are experiencing for websites and mobile applications. The results may lead those with a business administration degree or online business administration degree to seek the help of digital agencies to make the most of their web presence.
The biggest findings of the study include that just 28 percent of companies are happy with the tools and techniques they use to measure their websites; many are measuring the wrong kinds of data, including 46 percent that said they used "time on site" as a key measure, which doesn't always point to a positive experience; and 37 percent said their company ignored data and 34 percent gather data but don't use it.
"We commissioned this study to understand how companies across America were using data in their design process," said Simon Mathews, chief strategy officer at Extractable. "The results are fascinating, both validating that using data to drive design improves a website's experience for its users, but also uncovering that so many firms are missing out on opportunities by measuring the wrong data or not using the data they have."
Register.com recently provided five simple tips that ecommerce companies can use for great results. Companies should think like a consumer, keep websites simple, use photos of products, market the site when it goes live and make payment processing easy but also secure.