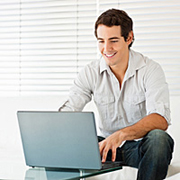 Online Degrees Become Trend in Higher Education
Sunday, Apr, 22, 2018 04:20PM
A New Hampshire college announced it is launching a program for students looking to earn several degrees virtually, including an online business administration degree. The college, among many other prestigious schools, is turning to online education to broaden its reach to students.
The regionally accredited college is now allowing students to gain their respective degrees through an entirely online program. Those seeking a general business degree online can work at a more flexible rate than before. The school is offering seven-week courses seven times a year at a lower tuition rate. This addition to curriculum will allow students to graduate in as little as 28 months, or 16 months if they are earning an associate's degree.
Many colleges are continuing down this path. Aaron Brower, a vice provost at a Wisconsin college, believes the trend toward higher education online allows expansion in departments that traditional classrooms may not be able to accommodate. The Capital Times reported Brower urges colleges to evaluate their curriculum to focus on improved learning, efficiency and increased revenue.
"So how much material do you put online?" Brower said. "How can we use new technologies to reach more nontraditional students and realistically provide access to people all over the world? And what should the focus of residential education be? What is the value we can add for those who come to campus? We really need to start thinking differently about what we do and how we support that."
The Capital Times noted technology has shifted the way people communicate but has not yet reached the classroom. However, budget cuts are causing universities to examine their curriculum and explore new age options. Because some cuts are forcing larger classrooms, an efficient way to educate students may be offering several courses, or parts of courses, online.