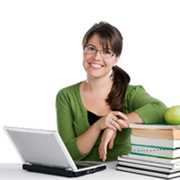 Online university sees increase in master's degree applicants
Friday, Mar, 10, 2017 05:17PM
A web-based college recently announced that is has experienced an increase in applications for its online master's degree programs. The university reported that many of the candidates are former executives who lost their jobs during the economic crisis.

The CEO of the institution said that the many unemployed individuals are redirecting their energy toward college degree programs, which can help augment one's self-esteem as well as improve his or her marketability in the workforce. For example, Lorraine Palmer has enrolled in online college classes a year after she was laid off from her job in the biotechnology industry. She said that the flexibility of web-based courses allow her to travel internationally to look for new career opportunities while also pursuing a college degree.

The college, which is based in California, offers a variety of online master's programs, including a business administration degree. Other graduate-level concentrations include marriage and family therapy, as well as media and communications psychology.

As companies place more emphasis on globalized marketing strategies in an attempt to thrive in today's economy, more students are pursuing an international business degree online. The Bureau of Labor Statistics reports that an increasing number U.S. firms are hiring management analysts who have a comprehensive understanding of foreign cultures.