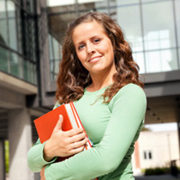 North Carolina school introduces new master's degree program for educators
Tuesday, Apr, 11, 2017 04:26PM
A North Carolina college recently announced that it will offer its first college degree program for graduate students this summer.
According to The Asheville Citizen-Times, the institution will add master's-level coursework for scholars who wish to earn a degree in teaching. School officials expanded the education program because it is one of the college's most popular fields of study, as about half of the institution's adult students are pursuing a bachelor's degree in education.
Furthermore, the new master's degrees will strengthen an existing partnership between the college and local public schools, according to the media outlet. The program, which will include an optional concentration in elementary education, consists of 36 credit hours.
Individuals who are interested in teaching professions may consider enrolling in early childhood education classes online. Many web-based institutions offer a variety of educational degree courses that allow working professionals to fulfill their daily commitments while pursuing a second career.
According to the Bureau of Labor Statistics, some states require that public school teachers obtain their master's degrees. Completing graduate programs can lead to an increase in salary and benefits, the bureau reports.