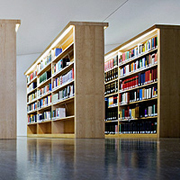 College offers online education via iPhone and iPad
Tuesday, May, 16, 2017 11:13AM
Although iPhones and iPads are widely viewed as sources of entertainment, students at a California-based college can earn a degree in teaching by using these popular mobile devices.
The institution recently announced that the online master's degree program will be offered as an application for the iPhone and iPad. The program allows scholars to access coursework, including videos, as well as interact with other students and faculty members.
School officials said that students will now be able to access education online degree programs from anywhere. In addition, users who subscribe to the mobile app will be notified of upcoming course-related sessions and assignment due dates. They will also be able to take notes that sync back to the web-based platform.
Online college courses have become increasingly popular in recent years because of their affordability and convenience. This latest announcement reveals that some programs are not limited to a desktop or laptop computer, but can be accessed through mobile devices.
These innovative programs may especially benefit aspiring teachers. According to the Bureau of Labor Statistics, many educators are expected to continually update their skills so that they can integrate the latest technologies into their lesson plans.