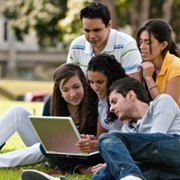 Online Educational Degree Programs Blend Teaching And Technology
Sunday, May, 21, 2017 03:18PM
The Bureau of Labor Statistics (BLS) reports that many states require public school teachers to obtain a master's degree. Thus, many working professionals have opted for the convenience and affordability of education online degree programs.
Online college courses allow instructors to earn a degree in teaching while fulfilling their daily responsibilities in the classroom. Many web-based programs offer weekend and night classes, which typically do not interfere with K-12 education hours.
In addition, many teachers have at least two months off during the summer. By enrolling in online education programs, individuals can pursue a degree while also enjoying the benefits of their summer breaks.
The growing popularity of distance learning has prompted many traditional institutions to add online degree courses to its curriculum. These programs allow campus-based schools to attract students from across the U.S.
For example, the Los Angeles Times reports that a California college added an online master's degree in teaching two years ago. Its enrollment has increased to approximately 1,400 nationwide, and about half of the students are taking classes from outside California.
Aside from degree requirements, some states ask their teachers to complete technology training programs. As digital learning applications become more prevalent in the classroom, educators are expected to be well-versed in how to use these tools.
A Michigan-based school recently launched an online master's degree program in educational technology, the Holland Sentinel reports. The program is designed to help teachers access cutting-edge information and build digital learning communities.
According to the news provider, the educational degree courses will help instructors build their lessons around computers and the Internet. Educators who rely heavily on digital tools may consider enrolling in computer support technician training classes.
Computers play an increasingly important role in the 21st century education experience, the BLS reports. Aside from recording student grades and performing other administrative duties, digital programs can be integrated into almost any classroom lesson.
Past research as shown that computers can help young children with learning disabilities and social disorders develop their academic skills. Teachers who are pursuing early childhood education online may want to consider learning about these innovative tools, and then introducing them in the classroom.
Individuals who wish to enhance their teaching and technology skills may benefit from pursuing online graduate degrees from accredited colleges. The BLS reports that most teacher education programs are required to include classes that focus specifically on computers and other technologies.