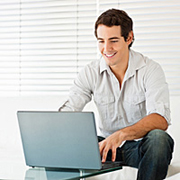 Cyber Criminals Find New Ways to Invade Computers
Thursday, Apr, 19, 2018 04:29PM
Cyber criminals have found a new way to attack personal online information, a cybersecurity banking official told a House Financial Services panel on June 1. According to The Associated Press, hackers are posing as The National Automatic Clearing House Association, U.S. Postal Service or the Electronic Federal Tax Payment System.
As vulnerability is increasing, those who earn a cyber crime degree or online cyber crime degree will have an opportunity to greatly impact online security.
Not only are criminals attempting similar email fraud plots, in which corrupted links, when clicked, initiate malicious software downloads onto a person's computer, but cyber thieves have begun using social media and advertisements to defraud victims. Popular news sites and search engines are being used as an outlet for false advertisements that, once clicked on, will install similar software.
"A more recent method involves fraudulent messages sent from social media sites," Michele Cantley of the Financial Services Information Sharing & Analysis Center said in the meeting. "These may include bogus friend requests, for example, that include links to malicious sites."
Cantley said the most popular form of cyber crime is called phishing, which is when a false claim is sent out stating it is from an established corporation and asks recipients to hand over personal information.
The Obama administration is taking cyber crime seriously, as it recently announced a private-public partnership to rid PCs of malicious codes - or botnets - that steal banking and other personal information according to Forbes magazine. Howard Schmidt, the current White House cybersecurity coordinator, noted one in every 10 Americans has an unsecure code on their computer or mobile device.
Citing data from a Symantec study, Homeland Security Secretary Janet Napolitano said the worldwide cost of cybercrime is $388 billion, Forbes reported.